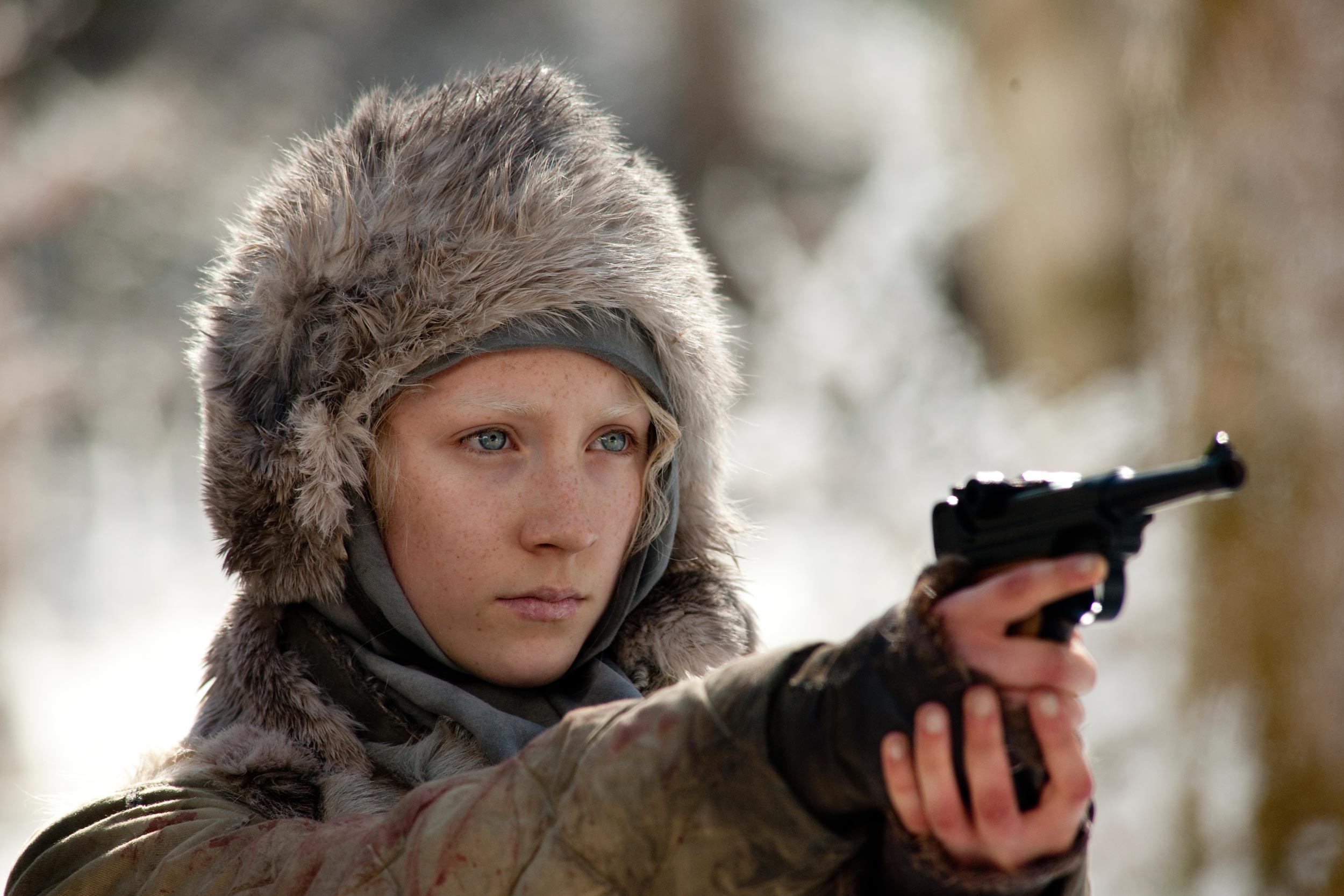 Hailee Steinfield in True Grit and Saoirse Ronan in Hanna
The Telegraph
recently posted an article about the fairy tale movie phenomenon, and teased us with other fairy tale and children's book adaptations in the works, an additional "Snow White," two more "Sleeping Beauties," three
Peter Pan
s, two "Cinderellas," one "Beauty and the Beast," one "Little Mermaid," one "Jack the Giant Killer", one "Hansel and Gretel," one
Oz
, and one "Arabian Nights." And a partridge in a pear tree.:
"Disappointingly, it could then be another 18 months before a third film based on Snow White is released, although Disney plans to have The Order of the Seven, it own loose adaptation of the tale, in cinemas before the end of 2013. The premise should appeal to anyone who liked the Seven Dwarfs but only wished they were taller and more violent: here, they are an elite fighting unit of average height who come to the rescue of a banished English maiden in 19th-century China.
While Snow White gets three films, Sleeping Beauty, Peter Pan and Cinderella have to make to with two apiece. Hailee Steinfeld, the 15-year-old actress nominated for an Oscar for her role in True Grit, is attached to a feminist take on Sleeping Beauty in which the princess Aurora fights her own way out of the dream world rather than waiting for a handsome prince to pucker up. Meanwhile, Angelina Jolie will play the wicked queen in Maleficent, a reworked version of the Disney animation, told from the villainess's point of view.
Then there's Pan, which recasts JM Barrie's boy who never grew up as a baby-faced kidnapper pursued by Detective Captain James Hook, played by Aaron Eckhart. And indeed Peter Pan Begins, which reveals that the hero and his one-handed nemesis are in fact estranged brothers, with the former fashion model Channing Tatum attached to play either Peter, or Hook, or possibly both. A third script for a Twilight-inspired take on the story called The.Never.Land is currently unoptioned, but the threat remains that it may yet be made.
A live-action version of Cinderella has been developed for Disney by Aline Brosh McKenna, the writer of The Devil Wears Prada, which itself was a modern-day Cinderella story of sorts. When news of this adaptation broke, Universal instantly announced that it too was working on its own production.
This is not The End. Emma Watson was recently cast in a new version of Beauty and the Beast. Joe Wright, whose thriller Hanna was dotted with references to Red Riding Hood, is planning a live-action Little Mermaid. Bryan Singer's take on Jack The Giant Killer, starring Nicholas Hoult, will be released in the 2013 post-Oscar lull, which does not bode well. The Will Ferrell-produced Hansel and Gretel: Witch Hunters will star Jeremy Renner and Gemma Arterton, which does.
Sam Raimi's Oz: the Great And Powerful boasts James Franco as a young version of L Frank Baum's Wizard. Chuck Russell's Arabian Nights boasts former wrestler Dwayne "The Rock" Johnson as Sinbad. The combinations of stars, plots and settings sound like the results of a strange Hollywood parlour game. "Liam Neeson as Rumpelstiltskin, in an action thriller! Justin Bieber as the Clever Little Tailor, in space!" (Full Article)
While I am extremely excited for all of these, who wants to sign a petition for a movie adaptation of "The Goose Girl"? Or "Wild Swans"? Or "DonkeySkin"? Or "Twelve Dancing Princesses"? Or "East of the Sun and West of the Moon"? I think the movie producers need to delve a little to come up with fairy tale movies that have not been over done.
But I am a bit giddy about the
Sleeping Beauty
adaptation with
Hailee Steinfeld
. That girl can do no wrong. And I will watch
Saoirse Ronan
(the lead in
Order of Seven
) read a phone book.